Brad Crum
For bookings, prices, or more information...
Phone: 717-362-9856 Email: BradCrumElvis@gmail.com
Brad Crum is the #1 Elvis Impersonator in Pennsylvania! He has the looks, the moves, and the voice. When Brad hits the stage, his strong vocals and top showmanship are a guaranteed crowd pleaser. Authentic outfits, real hair and sideburns, and a 3 1/2 octave vocal range, make this act a truly great one. Brad is available for bookings throughout the USA. He has performed in places such as Key West FL, Shanghai China, Cleveland OH, Branson MO, Delaware, in addition to Pennsylvania. The designers who created the costumes for the Warner Brothers movie, 3000 Miles to Graceland, created the jumpsuits he wears!
Brad is available for Elvis-grams, special events, parties, reunions, carnivals, anniversaries, weddings or store promotions. "The King Lives On" performance can be any length of time desired, from 30 minutes to two hours. The show includes all equipment, lights and sound system, as needed. Coming in 2009, Elvis Tribute Show with a full band. An Elvis-gram includes three songs, scarf and picture for the recipient.
Send A Birthday Surprise! Surprise someone on his or her birthday with a special telephone greeting from Brad in Elvis-style voice along with a short song! Call for price and availability.
Brad has

9

CD's now available
, each with 10 to 15 of your favorite Elvis songs. Click on the "My CD's" button above, to listen to some free samples from the CD's
Brad has been performing since 1968 when he started his band, "East Coast Invasion", known as "ECI Rock" aka East Coast Invasion.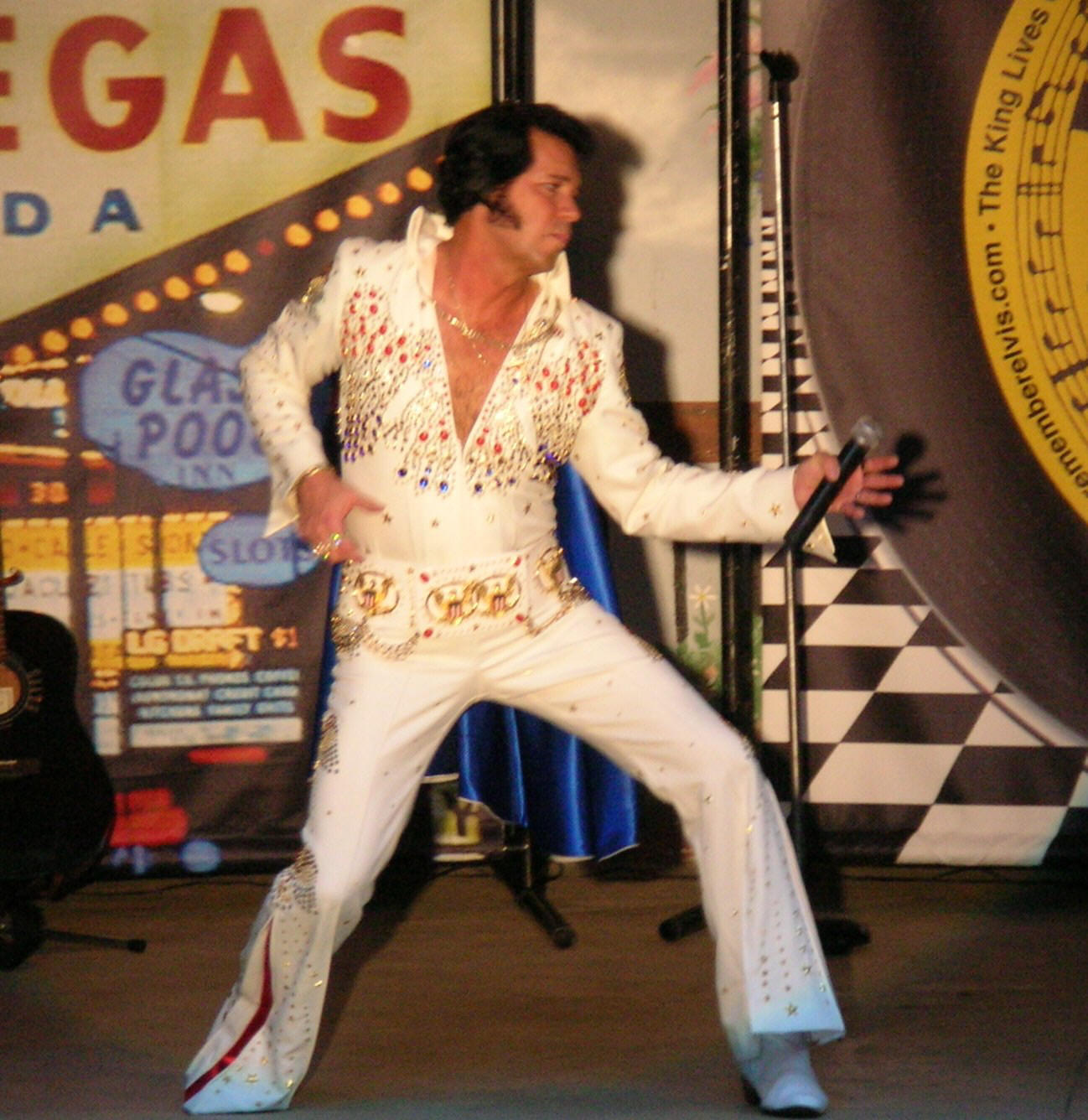 Customer Comments:
I just want to say that we are very pleased with your performance on Saturday, April 9th. Having Brad there gave our Viva Las Vegas promotion just the right touch. Everyone was smiling, the customers, the sales
people, the warehouse guys, and even management. I received so many congra
t
ulations on choosing a great Elvi
s
impersonator
,
but the real congrats should go out to Brad. He is professional, friendly
,
and an awesome singer and entertainer. We are already discussing when to
invite him back! Thank you so much and Good luck to both of you!
Stacy Holland
FurnitureLand
Delmar, Delaware
Telephone Elvis-Gram
Hello,
Thank you so much (for the Telephone Elvis-Gram), she loved it!!! She thought it was a recording at the beginning and then realized it was him singing. She could not believe how talented he was!! It made her year! Thanks again for helping give my friend who has everything Elvis something she will never forget!

Sincerely,
Amy
Brad's growing fan club
Thank
You for making my husband's birthday party such a big success! Your performance was amazing, my guest's are still calling to say how great you were ,and how much they enjoyed you signing--your voice is beautiful. You and Carol are special down to earth people to work with. In planning a party there are so many things to worry about going wrong, but after speaking with the both of you ,I knew I did not have to worry.
Our 4yr niece was at the party ,and went to school the next day, and told the teacher he was wearing a white outfit that sparkled, and he was singing, and dancing. I guess Elvis had that effect on all females . Doesn't matter what age they were.
Take care,
Susan & Rich
Brad was a surprise performer at my daughter's wedding reception recently. Both she and her new husband are BIG Elvis fans and have been to several Elvis impersonator shows in Las Vegas and elsewhere, as have my wife and I. Suffice it to say that Brad's performance was far and away the best we have ever seen. His looks, his moves, and the way he interacts with his audience are all amazing, but mostly it's his voice that makes him stand out. He's truly got a gift and we're the ones who get to enjoy it. Keep up the great work!!!
Don Delaney
Audubon, PA

<![if !vml]>
<![endif]>